People, society is really tweaking my nerves lately. Apparently we've revisited the days of young white men finding entertainment and amusement in darkening their faces and making fools of themselves. Oh and apparently domestic violence is funny now; news to me!
At a pep rally in a New York High School (heavily lacking in diversity), 3 white male students thought it would be fun to paint themselves with brown make-up and perform a skit that satirized the  infamous Chris Brown-Rhianna beating. Where do I even start? How about with the fact that they PAINTED THEMSELVES BROWN! I have to wonder do they even know what black face is? Or the history of racial insensitivity that it embodies? I think that makes it worse, that they are so ignorant of this practice that they see absolutely no problem with doing it. To them it's a costume.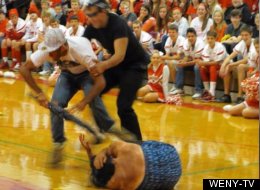 Now on top of the racially insensitive slap in the face, these lovely young men thought domestic violence would be a safe topic to poke fun at as well. I'm sorry but I don't see where there is a grey area here! The entire student body, teachers, alumni, and local news outlets watched as the boys imitated  the infamous beating and dragged the third boy across the gym, and get this nobody said anything or thought to stop it!
After some outrage from pictures of the event posted on Facebook and news outlets picking up the story the school district started to sweat, but before that no one was talking about punishing these boys for their blatant disrespect on so many levels. Really, still no one is looking to punish them. If they want to claim that black face isn't illegal and therefore can't be punished (which is completely asinine reasoning) then it's  whatever, but come on there is no getting around the whole "domestic violence as a joke" factor! School officials are talking about rethinking the activities of the pep rally and maybe considering working on incorporating some more diversity sensitivity training but I mean, so what?
The worst thing about this entire situation is that the kids in the school were not aware enough to see an issue with what they did. Schools need to stop waiting for something like this to slap them in the head to wake up and realize that teaching students the nature of racial sensitivity is actually very important. Again people, we do not live in a post-racial society, we can't act like it's all good. Do not allow yourself to be ignorant of racially insensitive and discriminatory acts in this country or else you could be the next dumb ass who didn't know black face was just plain rude!
Okay end of rant lol.
[youtube=http://youtu.be/qESkU3_UdlA]